I recently had the privilege at MOPS to learn from and be inspired by a food blogger. She made us a few dishes to try but the best part for me?? Dessert. She made us brownies, which really, doesn't do them justice. They were chewy, chocolaty, crunchy and peanut buttery squares of deliciousness. Now, I cannot personally attest to whether or not they are
actually
better than crack but my guess? They probably are! With a simple boxed brownie mix or a recipe of your own, you can easily create them in just thirty minutes or so. You can also adapt these and play with them, adding your own ingredients or whatever you have on hand. Here's the recipe, see for yourself:
1 box brownie mix plus ingredients
OR
Make your favorite brownie mix, like mine:
3/4 cup of flour
1 cup sugar
3 eggs
1/4 teaspoon salt
1 teaspoon baking powder
1/2 cup butter, softened
4 oz chopped chocolate, melted (whatever you prefer..I used semi-sweet chocolate chips...)
Topping:
1 cup crunchy peanut butter
1 cup chocolate chips (choose your favorite, I used the semi-sweet again..)
1 cup crispy rice cereal
Pre-heat oven to 350 degrees and mix brownie ingredients, pouring into a greased 8X8X2 inch pan. Bake until just done in the center, about 30 minutes. Meanwhile, melt peanut butter and chocolate chips over low heat until melted. Remove from heat and stir in one cup crispy rice cereal. Pour mixture over top of the brownies and refrigerate until cooled (if you can wait that long...) Cut into squares and enjoy!!!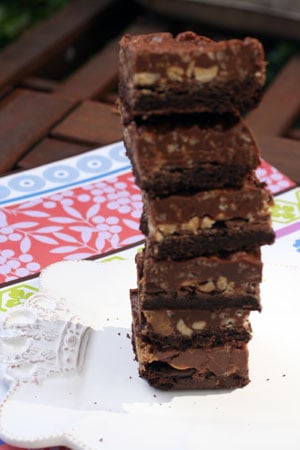 Adapted from http://adventuresinthekitchen.com/2011/03/decadent-dark-chocolate-peanut-butter-crunch-brownies/